MPs face Legislative Backlog before Election 2019
In Ottawa, minds are focused on the 2019 election while working through Parliament's crowded legislative agenda. At the mature age of three years and one month, this 42nd Parliament is in its home stretch.
The House of Commons returns Monday January 28th to sit in its temporary home in the West Block.
As for the Senate, its move to the old conference centre is delayed. That means the Senate will only resume sitting on February 19, 2019. This is two weeks later than originally planned. The delay presents an additional time challenge to what is already a crowded agenda in the Senate.
About 90 Bills are at various stages of winding their way through Parliament with 60 sitting days or less remaining for the House before a recess in June 2019.
Two Headliners – Indigenous Languages and Indigenous Child Welfare Bills
And two more are about to be added that number. Two major pieces of legislation relating to Indigenous peoples are expected to be tabled by the government for First Reading very soon.
The first is legislation to support Indigenous peoples languages revitalization. The second is a Bill to speak to the crisis of gross over-apprehension of Indigenous children in the child welfare system in every part of the country. Both can be seen as responses to specific Calls to Action of the Truth and Reconciliation Commission of Canada. Both Bills are also the product of many years of advocacy by Indigenous peoples. What remains to be seen is whether the government Bills will meet the expectations of Indigenous peoples. How much actual co-development has taken place with Indigenous peoples will be evident after the Bills hit the floor of the House of Commons.
It is not clear yet how Ottawa will interpret the outcome in the Mikisew Cree First Nation decision of the Supreme Court of Canada in its approach to working with Indigenous peoples. In Mikisew, the Supreme Court of Canada decided the government does not have a legal duty to consult Indigenous peoples in the development of legislation impacting their rights. However, the decision did not consider the obligations Canada has embraced under Article 19 of the UN Declaration: to consult and cooperate in good faith with Indigenous peoples "in order to obtain their free, prior and informed consent before adopting and implementing legislative or administrative measures that may affect them". In the same decision, the Supreme Court again confirmed that Indigenous peoples are entitled to seek remedies through the courts where federal legislation does not respect aboriginal and Treaty rights affirmed by section 35 of the Constitution Act, 1982.
This conversation is worth watching over the next few months and years. In the meantime, let's hope government drafters have been listening very intently to the input received from the people who are most expert in these matters – Indigenous peoples themselves.
Bill C-262, UN Declaration on the Rights of Indigenous Peoples Act
A Bill that has received broad support from Indigenous peoples and human rights advocates in Canada is Private Members Bill C-262, the United Nations Declaration on the Rights of Indigenous Peoples Act.
The purpose of Bill C-262 is to commit the federal government to develop a national plan with Indigenous peoples at home in order to implement the UN Declaration in an orderly way.
Canada already has committed to do that and has joined a global consensus on the matter through several UN General Assembly Resolutions . In 2017, Canada similarly made a commitment to discuss with First Nations co-development of a national action plan (see 2017 AFN-Canada Memorandum of Understanding on Joint Priorities).
The practical and pressing need for a national action plan to implement the UN Declaration should be obvious. The unacceptable gap in living conditions between Indigenous people and other Canadians is a serious human rights issue; and there is a compelling business case for closing that socio-economic gap. There is another very practical reason all Canadians should be invested in these issues – Indigenous peoples continue to rack up wins in the courts at home; and at the UN before human rights complaints and review bodies. Instead of costly litigation, cooperation and co-development of a plan to implement the UN Declaration would be in everyone's interests.
Many human rights activists are hoping Senators will ensure the Bill passes before the election. Otherwise, it will die on the Order Paper. The Bill was passed by the House of Commons at the end of May 2018 and is now in the Senate. As of the time of writing, it was at 2nd Reading but not yet referred to a Senate Committee for study. Bill C-262 also is the product of decades of advocacy by Indigenous peoples. More information on Bill C-262 is available here from the Coalition on the Human Rights of Indigenous Peoples and here from the Assembly of First Nations.
Senators will need to pick up the pace if Bill C-262 is to pass; and perhaps even add sitting days to their schedule. When the Senate returns on February 19th, Bill C-262 will be 1034 calendar days old. And that is saying something. Of private members bills passed so far by this Parliament, the most time spent getting to Royal Assent was 927 days (Bill S-210, an immigration bill). The chart below makes clear the challenge as this Parliament moves closer to its maturity date. Advocates have stressed, as a matter of human rights, this Bill should be treated in a non-partisan manner and be allowed to come to a vote without procedural shenanigans.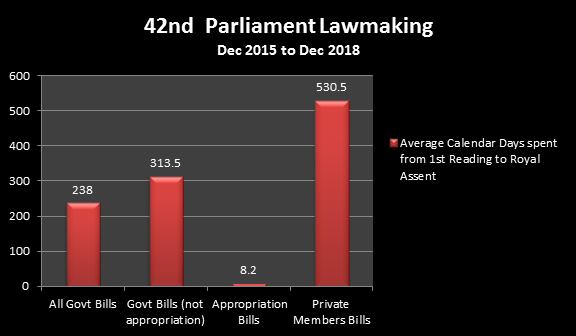 Other Outstanding Human Rights and Social Justice Bills
Other outstanding Bills on human rights and Indigenous peoples issues include:
Omnibus Legislation
And buried within omnibus Bill C-86, Budget Implementation Bill, 2018, No. 2 are laws respecting human rights as well as Indigenous peoples:
The Department for Women and Gender Equality Act establishes the Department for Women and Gender Equality. The new Department will support the responsible Minister in matters relating to women and gender equality. This includes the advancement of equality in respect of sex, sexual orientation, gender identity or expression and the promotion of a greater understanding of the intersection of sex and gender with other identity factors.
The Addition of Lands to Reserves and Reserve Creation Act authorizes setting aside lands as reserves for the use and benefit of First Nations. This is intended to more quickly meet Treaty obligations of the Crown. Part 2 of the Manitoba Claim Settlements Implementation Act and the Claim Settlements (Alberta and Saskatchewan) Implementation Act are repealed.
Human Rights Legislation Passed
On a more positive note, several human rights Bills have been passed by this Parliament:
First Nations – regionally focused legislation passed
In addition, several regional or First Nation-specific pieces of legislation have become law since 2015:
C-17 – The Yukon Environmental and Socio-economic Assessment Act establishes a single assessment process for proposed development that may affect the Yukon's environment, people, communities and economy. The Bill implements Chapter 12 of the Umbrella Final Agreement between the Government of Canada, the Council for Yukon Indians and the Government of the Yukon 5 (Umbrella Final Agreement) and related agreements. This legislation addresses 2015 amendments that were not in line with Canada's obligations under the agreements with Yukon First Nations.
Stay tuned, the months before the summer recess are worth watching on the human rights front and what many hope is progress on relations with Indigenous peoples.