Big Oil vs. Renewables: will we choose a green path to economic recovery?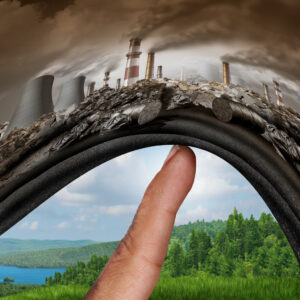 May 16, 2020
Our age is now defined by daunting twin challenges – the global coronavirus pandemic and a human-generated climate crisis.  These forces present a new, unpredictable phase in the battle for market share between oil and renewables.  Before the pandemic, the renewable energy sector was gathering momentum and it weathered the lock-down reasonably well compared to the oil sector.
Environmental recovery and economic recovery should be twin goals.  The stakes have never been higher.  Greenhouse gas emissions have propelled the warming of our green-ish, blue-ish planet to dangerous levels.
The global economic shut-down imposed a huge, dramatic pause on emissions-heavy activities by industry and consumers.  Clear views of the Himalayas emerged – ones that haven't been witnessed in decades.  Satellite images revealed significant  decreases in air pollution in key industrial centres around the globe.  The COVID-19 pandemic is responsible for the biggest fall in anthropogenic carbon emissions since World War II. (Sabrina Faramarzi. How Coronavirus Lockdown Has Actually Affected the Environment. VICE. April 22,2020.)  We have been treated to a tantalizing peak at the possibilities of environmental renewal.
We could move towards a healthier environmental future.  We could dream not just about "the future we want" but the future we can shape through responsible decisions.
Can we get people back to work and move to a greener economy?  How will governments view their capacity to accelerate transition to a green economy? Opinions on the prospects are now swirling.
BP's chief financial officer Brian Gilvary recently called on governments to press ahead with commitments to tackle climate change despite budgets under strain in the aftermath of the pandemic.  He also said it was critical that countries move "at with the speed we need" to avert a catastrophic rise in global temperatures. (David Sheppard and Anjil Raval. BP calls on governments to press ahead with climate push'. May 14, 2020.)
Meanwhile in Canada, the federal government is delaying the introduction of environmental action in some important areas such as banning plastics and the introduction of new clean fuel standards for gasoline and diesel. (Canadian Press. Pandemic to push back new climate targets, plastics ban, Wilkinson says. May 15, 2020.)
The sustainable investing movement has been taking hold.  As the Washington Post reports: "Five years ago, members of the Rockefeller family walked away from the fossil fuels that made them rich, alarmed that burning oil and gas was causing climate change. Now it also seems like a smart financial move. The $1.1 billion Rockefeller Brothers Fund — largely free of oil and gas — has outpaced financial benchmarks, defying predictions of money managers."
Before the pandemic, banks with more than $47 trillion in assets adopted new U.N.-backed "Principles for Responsible Banking" to fight climate change.
Earlier this month, Norway's US$1-trillion wealth fund used excessive greenhouse-gas emissions as a reason to divest from four Canadian oil sands companies.  The Globe & Mail reports this is the first time that the fund used excessive greenhouse-gas emissions as a reason to divest. (Emma Graney. World Economic Forum calls out Canada for slow move to sustainable energy. May 14, 2020.)
During the economic lock-down, we impressed ourselves with innovative IT workarounds on the work front.  Work-style changes have been unleashed at speeds we could not have imagined a few short months ago.  The pandemic pushed us to overcome our resistance to remote work and expanded our use of videoconferencing.  Any change that can bring emissions reductions is a benefit.  Many expect that we will rely less on traditional office space.  Work from home means less commuting in hydrocarbon fuelled cars and less emissions.  On the other hand, those travelling to work or to shop may have qualms about using public transit.  Some of us will feel safer in the bubble of our own car.
As transformational as the past few months have been, it is still early days in our pandemic response.  We will not be vaccinated by the fall nor is that likely any time before 18 to 24 months.  The horrifying and diverse impacts of COVID-19 are still being learned and studied.
We wait anxiously for a vaccine solution and for more effective treatments.  And the world will continue making adaptations to reduce the public health risk.  Our way of living, working and playing is being transformed at lightning speed.
During this time, the collective decisions of industry, government and consumers will shape either a greener future or a return to short-term gain thinking, knowing we do so at the expense of our children and grandchildren.
While awaiting a return to "normal" life, we have witnessed the amazing resilience of Mother Nature.  She only needs half a chance to rebound and we owe her at least that much.  As we try to heal and protect our bodies, will we do as much for the Earth that sustains us?
The warning of UN Secretary General António Guterres on the climate crisis should be ringing in our brains: "The point of no return is no longer over the horizon. It is in sight and hurtling towards us."
Wendy Moss